Frequently Asked Questions
How do I register for a course?
From the PACE online Course Catalog, select the course you would like to register for
Click the Register Now button on the course website
At the window shown below, log in with using an email account offered by one of the providers listed

Returning students may see this window auto filled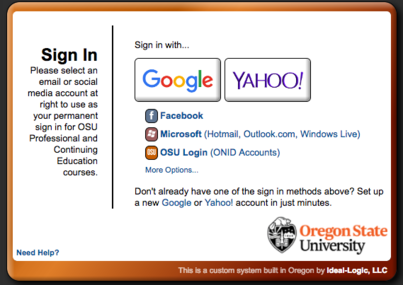 b.Bookmark this URL as you will always use this site to log in and access your course.
If you are registering in an individual course, the course will be selected

If there are other courses in the program, these may also be selected by you if you wish to add them to your registration

For a course series, you may need to select the individual courses. Be sure to check the dates and select all required courses.
Continue through the registration process by completing each page and clicking the Next button at the bottom of the screen. If you miss any required fields (*), the relevant tab on the left will turn pink and you may go back to complete it. Also on the Review tab you may click the green What's Missing? link to see what is needed to complete your registration.
On the Charges and Payments tab, select a payment type, enter your payment information and then click the Submit Registration button.

If paying by check, see the PACE Policy page, Paying by Check Policy section.

You will receive a registration confirmation email with details about your course.
How do I reset my Drupal password?
Follow the link to Drupal and select "?" in the orange box located next to the orange "Log in" box. You will need to enter either your username or email address, so your new password can be emailed to you.
I enrolled into a Canvas course prior to November 30, 2015. How do I access it?
As of November 30, 2015, Canvas has replaced Blackboard as the online learning management system for your PACE courses. If you registered for a PACE course prior to November 30, 2015, you must authenticate using the process as described on the following link: https://pace.oregonstate.edu/pace-canvas-access-instructions-previous-enrollees.
Please review the website thoroughly to help you understand and complete the process.
Which credit cards do you accept?
Visa, Discover, or MasterCard.
What types of payments do you accept from international students?
Due to the international conversion rates and the additional time it takes to process international checks, we regret that we cannot accept checks from outside of the US.
We can accept payments in one of the following two ways:
Money Order
You will need to get a US Money Order that states US Dollars (USD) on the payment. If it states USD, then it will translate the appropriate amount in the US because it will have gone through the exchange rate process and completed the conversion to the correct currency and amount due.
Credit Cards
We accept Visa, Discover and MasterCard.
Do you have alternative payment options?
Some instructor-led courses offer alternative payment plans. Please contact pace@oregonstate.edu to find out if alternative payment options are available for the course(s) you are interested in.
Keep in mind, many organizations and companies will reimburse employees for completing continuing education coursework that satisfies CEU requirements in their respective industries.
In addition, employers can purchase several of our courses in bulk to pay a more affordable per-unit rate than individually purchased courses.
Benefits.gov offers several education and training funding programs.
Workforce Innovation & Opportunity Act (WIOA) works to improve coordination between and among agencies so that workers and job seekers have more seamless access to a system of high-quality
See our Policy page for more information

You may be eligible for lifetime learning credit on your federal income taxes to cover educational fees.
Learn more about aid for U.S. military veterans and families here
Financial Aid and the G.I. Bill only go towards credit education.
We accept AmeriCorps payments and MyCAA Scholarships.
How do I pay for my Ed2Go course?
If paying by credit card, then payment will be due at the end of the registration form.
If paying by check, then once PACE receives the check, we will go in and submit your registration for the course. Please note, that registration will not be submitted until the check has been received. Please write the check out to Professional and Continuing Education and mail it to the following address:
Professional & Continuing Education
4943 The Valley Library
Corvallis, OR 97331
If paying by journal voucher, please send an email to pace@oregonstate.edu with the following information:
Student's Name
Course Name
Course Session
Index #
Name, phone and email address of Person Who Handles Payment Transfer
Oregon State staff and faculty members will also receive a 10% discount on Ed2Go Quickskills courses!
What is the policy on refunds?
Which internet browsers can I use to take your online courses?
Internet Explorer versions 8 - 11, Firefox version 31, Chrome version 36 or Safari version 7.
What internet speed is best for your courses to work?
Because many of our online courses include streaming media, a download speed of at least 2mbps is recommended, but you may be able to get away with as low as 0.5mbps if you have time to wait for content to buffer. Check your internet download speed at speedtest.net.
I contacted my professor and haven't heard back. How do I get in touch with them?
If you have contacted your professor, please give them a few days to get back to you. They are usually very good about timely responses. If the inquiry is regarding grades, it may take some time for all of the grading to be completed, so please be patient. As a standard protocol, we allow all instructors one week to return grades to students. Most professors establish what form of communication they prefer, so that is probably the best way to get in contact with them. For those under deadlines to receive continuing education credit, we can not be responsible for your deadlines.
What is the process to request reasonable accommodations?
PACE is committed to providing equal access and reasonable accommodation in its programs and courses for individuals with disabilities. Students needing accommodations should first register with the Disability Access Services (DAS) office at Oregon State University. DAS will contact you to assess your needs and coordinate accommodations. It is Oregon State University's policy to comply with Sections 503 and 504 of the Rehabilitation Act of 1973, the Americans with Disabilities Act of 1990 (ADA), as amended by the ADA Amendments Act of 2008, and other applicable federal and state regulations that prohibit discrimination on the basis of disability.
Are there any financial assistance programs for veterans?
Our catalog features many online course and certificate programs that are flexible to the schedules of active duty or veteran members of the U.S. military and their families. Several federal, state and nonprofit programs that aid members of the military and their families can cover the cost of your continuing education.
Federal programs
The Montgomery G.I. Bill can be used to reimburse costs for certain trade-type certificate programs.
To apply for benefits or receive answers regarding your G.I. Bill benefits, contact the OSU Veteran Certifying Official Team at veterans@oregonstate.edu.
We accept AmeriCorps payments and MyCAA Scholarships for approved courses.
State programs
You can also receive aid through the State of Oregon through the following program:
Nonprofit scholarships
You may also find scholarships through nonprofit veteran and family associations.