Welcome OSU PACE Learners!
As of November 30, 2015, Canvas has replaced Blackboard as the online learning management system for your PACE courses. If you registered for a PACE course prior to November 30, 2015, you must authenticate using the process below to access courses through our registration system. Step 2 below is especially important if you wish to keep and maintain a record of your previous OSU PACE enrollments.
Instructions to Establish Your Access to PACE Canvas Courses
As a one-time only step to gain access to Canvas, you must first authenticate and create a profile through the PACE registration system/login portal [bookmark or keep this link handy - https://apps.ideal-logic.com/osupace]:
Start by selecting your choice of login options.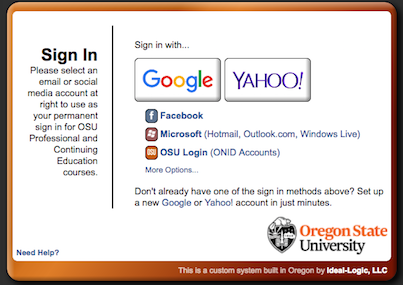 Complete the fields that follow to designate the email or social media account you prefer to use as your login in the future. IMPORTANT: You should list any email address previously associated with your Ideal-Logic where you see the "Do you want to add any other email addresses to your account?" prompt. This will connect your new login choice to your current/previous registrations. It is important that you do this in order to access any ongoing courses in which you are enrolled:


After you complete this initial authentication process, please allow 15-30 minutes for Canvas account setup to complete: On your next visit to the PACE login portal, you should see your course listed with an "Access this Course" button, as shown below:

Online Resources for Canvas
We strongly recommend that you become familiar with the following resources:
Canvas Help
Finally, keep in mind that Canvas provides 24/7 support from within Canvas itself. Simply click on the Help link on the top right of your screen within Canvas to view available options (see below), including toll-free support.