MyCAA Military Spouse Education Benefits
Welcome Military Spouses!
The My Career Advancement Account (MyCAA) Scholarship is a workforce development program that provides up to $4,000 of financial assistance to eligible military spouses who are pursuing a license, certification or Associate's degree in a portable career field and occupation.
Regardless of your academic or career background, you can choose from a variety of professional development programs that will help give you the necessary skills needed to stand out and excel in today's competitive global economy.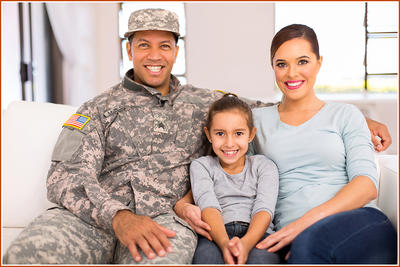 And with OSU's MyCAA-eligible classes, you can learn online, around your schedule, when it's most convenient for you. Regardless of where you happen to live.
MyCAA PROGRAMS
What makes these MYCAA approved courses so unique is that they're each so career specific and cover everything from accounting to therapeutic massage. Click on the categories below to learn what's available.
Business makes the world go round. So, having top notch business skills is always a safe career bet. The particular business programs available in this category cover everything from A to Z (technically "A to R" as in Accounting-to-Real Estate). So, you can learn specific skills like Business Law as well as more general skills like Business Communication.
This set of programs will help develop your critical thinking and problem solving skills while providing you with the specific knowledge and practical skill set to have a successful and rewarding criminal justice career.
If you have a knack for teaching and a love of self-discovery, definitely check out this list of educational related programs. In it, you can learn how to be a great teacher - or how to be a great student yourself.
Are you a hands-on learner? These Health and Wellness programs will allow you to learn with your own hands as you study subject such as Holistic Healing and Therapeutic Massage.
Are you passionate about helping people? Healthcare is one of the largest employers in the United States, so learning the necessary skills to help others can be one of the best ways to help your own career.
The field of web coding is expected to increase 27% in the next decade, which is nearly four times faster than average. And all modern-day businesses rely so much on computers and technology that talented IT Specialists are as invaluable as the computers themselves.
Being able to interpret the law and assist clients (big and small) with legal issues can be rewarding - and lucrative. Check out these programs and see if a law career is in your future.
Being an expert in project management can help make you invaluable in healthcare, finance, government, manufacturing and nearly every other industry. This particular project management program focuses on efficiency and creating systems that can be easily replicated and leveraged.
CERTIFICATE
Once you complete a program, you'll get a certificate from Oregon State University and/or you can go on to seek industry certification. As a bonus, career services / externship placement is included upon completion where applicable and/or as noted in the training plans.
HOW TO GET STARTED
Eligible spouses can establish a MyCAA account by visiting the MyCAA website. Once your profile information is provided, MyCAA will verify your benefit eligibility with the Defense Enrollment Eligibility Reporting System (DEERS). Once deemed eligible, you'll be able to create your Career and Training Plan and request financial assistance at least 30 days prior to the course start dates.