How and what do we measure to determine digital marketing campaign success?
This is an impossible question to answer with a single solution. The short answer? It depends on your business goals and objectives.
Zach Gallagher, Director of Interactive Strategy for Weiden + Kennedy, adds, "The goal of analytics is to help lay out objectives for a campaign, and to figure out the numbers that we can track that are most closely linked to those objectives."
Drawing on Zach's thinking and adding input from Sara Lingafelter, Director of Content and Social at Portent Inc., PACE has designed a 5-step workflow to guide how you would setup, measure and analyze digital marketing campaigns. To provide context and the added benefit of an example, one Oregon State University digital marketing campaign example is included (in a blue table at that end of each section) that will help sort out more of these topics.

Step 1: What is the goal of the campaign/effort?
Start with the big picture. How quickly can you characterize the goal of your campaign? Can you do this in one sentence? Having a clear goal will help focus your metrics and link the results back to your main objective
According to Sara, "In modern multi-channel marketing, we look to both economic and non-economic goals," to track on desired outcomes and determine the success or failure based on the performance of the campaign.
Establishing early on whether your specific plan will impact the bottom line or just make someone feel better about your product is an important idea to establish up front. Traditional advertising channels made marketing spends difficult to track. How many people saw that billboard and subsequently made a purchasing decision because of that ad? We'll never know. Many well-intentioned individuals calculate CPM—or cost per million views—of a specific ad whether a billboard, TV or radio commercial.
With new advertising opportunities available through online channels, we can setup and track user clicks as decisions are made that push website visitors toward a purchase or conversion point. Albeit a little creepy, it is also helpful if your goal is to "increase online sales for the month of April" to see where people spend the most time and what page visitors leave your website.
Having a clear, well-defined business objective to measure will help specify what types of analysis you can complete to determine the success of your digital marketing campaign. Each marketing campaign should have goal(s) with measurable outcomes that match long-term business or brand equity objectives. Being clear on this up front will save time and effort and will ensure that different elements of the campaign are doing their part to drive marketing metrics.

Step 2: Map your goals to marketing and campaign metrics
With at least one goal in mind, step 2 requires you to think about both the basic idea for your marketing campaign and what metrics you should use to gauge overall effectiveness.
To explain this another way, marketing and sales folks often reference a traditional sales funnel to explain how someone learns about and makes purchasing decisions based on brand influence and preference. The Digital Warriors, an agency that specializes in digital marketing consulting, provides a nice review of how the sales funnel applies to digital marketers. If you aren't familiar with the theory behind the funnel, reading the article would be helpful before you begin this step.
To build on this idea, Zach went one step further aligned possible goals with potential metrics one might use for digital marketing campaigns. Note that multiple campaigns can be running at the same time to achieve different or even the same objectives.
Using a Sales/Marketing Funnel in alignment with your marketing objectives can help you:
Drive awareness and favorability at the top of the funnel (broad message and experiences to connect emotionally with LOTS of people – cultural relevance at scale)

Drive consideration in the middle of the funnel (more focused and benefit-driven experiences targeted to a smaller number of people who have shown that they might be prospects)

Drive purchase/lead-generation at the bottom of the funnel (call-to-action oriented message targeted to people who are in-market for the product and ready to buy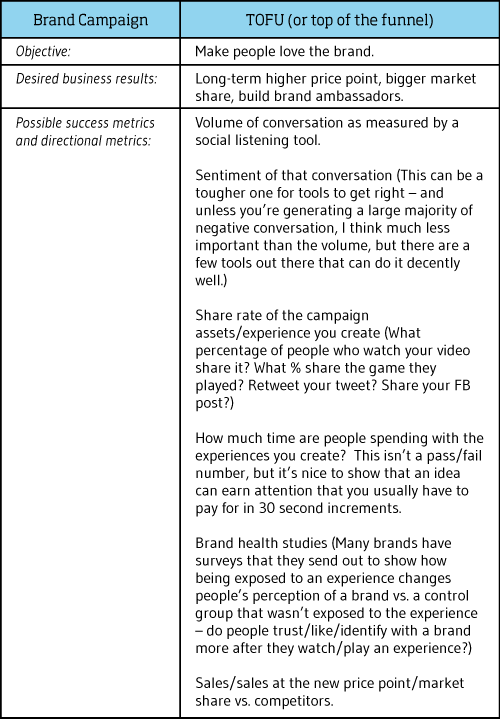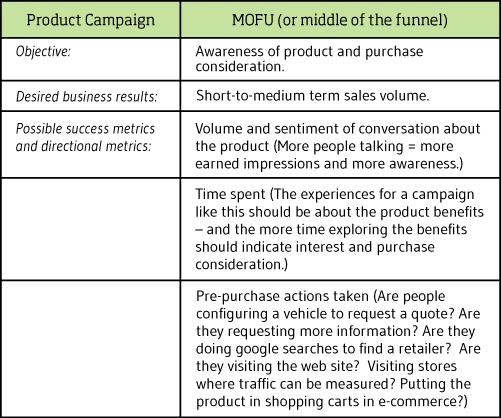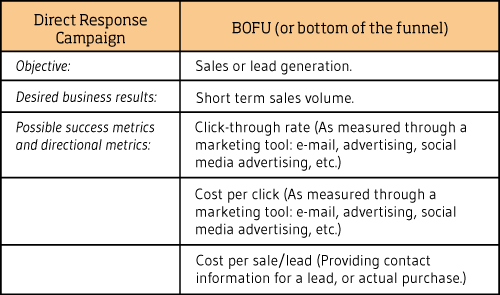 Step 3: Identify best tools to measure marketing efforts.
With countless ways to measure engagement, reach, conversion, and conversations, this can be a challenging step. Many articles have been written on measuring and calculating success and there are many tools that have been built to make that process easier. Some brave souls have put together lists of marketing measurement tools to align and explain the different options for measurement and analysis in digital marketing.
What's the easiest way to get started? Many of these tools offer a free account and you only need to provide an email address to get started. After a couple days of using a tool, you should be able to determine whether or not you can collect enough data for your campaign.
If you don't want to spend a lot of time testing and identifying the pros and cons of each tool for yourself, another great way to expand your knowledge is by asking other digital marketers. LinkedIn groups offer hundreds of industry-specific groups around the many arenas that make up online marketing. Joining these groups and participating in discussion boards can be useful for gaining feedback and other user experiences with analytics and measurement tools.
Tools and Resources to Track Digital Marketing Metrics
46 Digital Marketing Tools to Make Your Life Easier – Patrik Dholakiya
How to Calculate Share of Voice for Organic Search – Peter Meinertzhagen
Conversion and goal tracking in Google Analytics. This requires a bit of setup and customization through Google Analytics, a free tracking tool that can be installed on any website, but can easily show the path of a customer from seeing your ad to making a purchase on your website.
Time on page/site in Google Analytics. Although depending on the experience you've designed in your campaign, the results would need to be interpreted differently but seeing a visitor spend an excess of 2 minutes on your site and view more than 2 pages could be a metric used to measure increased engagement.
Social conversation monitoring through applications such as Little Bird. This area is growing right now with new technologies that are in development to help make social conversations and data usable with real-time integration.
ShareMetric through Content Harmony. A free Chrome extension that calculates how much a page has been shared on select social media platforms.
Sproutsocial, Hootsuite or Buffer for social media. Schedule, analyze and measure your social media posts on one platform to save time and aggregative data to collect insights.
Create and grow an e-mail list. Common tools for this could be MailChimp which includes its own analytics for tracking the success of e-mail campaigns, or another tool such as Constant Contact.

Step 4: Setup and test your campaign steps.
This is the fun part! At this point you should have the goal of your campaign, a metric you want to measure, and some idea of a tool that you'll use. Now to brainstorm different types of marketing campaigns, if you haven't already, and create assets, as well as the user experience you will need to run the campaign. If an advertising budget was setup when you identified the goal of your campaign, this is marketing spends can be added to help reach your objectives.
Campaign ideas could include: a series of photos on Instagram that inspire viewers to take an action, short video ads that appear before watching a Youtube video, Facebook pay-per-click ads, or a contest giving away swag in exchange for an action by your audience. All of these efforts should be linked directly to the goal of your campaign and the metrics you are trying to track should be in alignment with that goal. Multiple campaigns could run simultaneously to achieve the same goal.
"Always be testing," a phrase and title of digital marketer, Bryan Eisenberg's book,
is a good motto and resource at this stage. As you design an experience for your target audience, be sure to test the form, proofread the copy, and ensure that each step in the process is easy to follow and understand.
Step 5: Evaluate, analyze and provide recommendations.
If you've followed the previous four steps (have a clear goal, selected the metrics you'd like to evaluate, and selected a tool) the evaluation and analysis part should be relatively straightforward. This step can be complicated if you are examining results of a PPC campaign or counting Youtube views without your objectives defined. What would 40 versus 40,000 views mean on Youtube if you didn't establish how that effort would impact your business objective or goal?
For reporting on your analytics, consider how often you'll be asked to measure performance of campaigns like this in the future. If this is a regular reporting scenario for your efforts, consider a dashboard with key metrics pulled out to quickly explain your findings to others. Avinash Kaushik, author of many web analytics books, outlines an excellent way to build action dashboards on his blog Occam's Razor.