Designed For

Those who want to learn how to expertly evaluation wine, including novice and advanced wine enthusiasts, tasting room managers, and catering and restaurant managers.

Dates

October 20 - 21, 2017 (Standard Wine Sensory)
December 9 - 10, 2017 (Sparkling Wine Sensory)

Delivery

On-site | Corvallis, OR (October section)
On-site | Corvallis and Newberg, OR (December section)

Cost

$450 (+ $60 registration fee)

Length

Two days

Units

1.6 Units | 16 Hours

Talk to the Program Manager

Katie Klump
541-737-3113
katie.klump@oregonstate.edu

Ask us about Corporate Training. We can customize this program to fit your organization's specific needs.
Nestled in the Willamette Valley wine region, Oregon State University has a rich history of training wine industry leaders. Designed for novice and advanced wine connoisseurs alike, Sensory Evaluation of Wine course aims to help participants gain a deeper understanding and appreciation of the essential aspects of sensory evaluation that are often overlooked in most wine tastings.
Through lectures and guided tastings of a range of wine and wine styles from around the world, course participants will be exposed to the topics of white and red winemaking, taste, mouthfeel, aromatics and spoilage. By the end of this two-day course, students will be able to critically evaluate wine with authority and communicate that expertise to others.
This course is taught by OSU sensory scientist, Dr. Elizabeth Tomasino, a foremost expert on wine sensory analysis and flavor chemistry.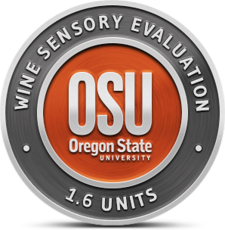 Complete this course and earn a digital badge to share your accomplishment on Facebook, LinkedIn and more!
A Special Wine Tasting Oregon Weekend
Wine Course
How to Evaluate Wine with a Renowned Wine Expert
Wine Tasting Course
An in-depth introduction to wine tasting
How red and white wines are made
Understanding taste, smell and mouthfeel of wine
How to identify wine spoilage
How to accurately evaluate wine and communicate that information to others
Dr. Elizabeth Tomasino

Dr. Elizabeth Tomasino is an Assistant Professor of Enology at OSU. She has had the opportunity to study the wine industry world-wide, including in Europe and New Zealand. Her research interests lie in wine sensory analysis and flavor chemistry. A main research includes determining relationships between sensory and chemical data, particularly those aroma compounds important for wine quality and regional differentiation. Other interests include the determination of global/regional/sub-regional wine styles, use of sensory analysis for wine education and understanding of consumer preferences, and the influence of non volatile components to wine aroma.