Designed For

Current and prospective employees in solid waste, recycling, and sustainability-centered industries, as well as those who wish to understand how their everyday lives impact the environment and how they can positively effect change in their communities.

Dates

Always available

Delivery

Online | Self-paced

Cost

$50
$35 per individual for groups of five or more. Email PACE@oregonstate.edu for more information.

Length

15 hours approximately

Units

PLANET: 20 CEUs
Solid Waste Association of North America: 8 CEUs
Jefferson, Ore. School District: 15 PDUs

Contact

PACE@oregonstate.edu
541-737-4197

Ask us about Workforce Development Training. We can customize this program to fit your organization's specific needs.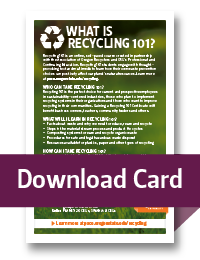 There is no planet B.

Protect natural resources by learning about recycling, composting and waste reduction with Recycling 101, an online, self-paced course created in partnership with the Association of Oregon Recyclers. You will engage with thought-provoking text and multimedia to learn how your own waste prevention choices can positively affect our planet's natural resources.
Travel the life cycle of a recycled item and learn techniques to influence people to make the right choices at work and home through Recycling 101's dynamic videos and case studies.
Modeled after the successful Master Recycler program and relaunched in October 2017, this online, self-paced course trains you in waste reduction, composting and residential and commercial recycling. You'll complete this eight-part course with the tools to help you save money, resources and energy and reduce your environmental footprint.
Future of garbage and recyclables after they leave your curb.
Foundations of the solid waste management industry in Oregon.
Effects of consumer choices on the environment, resource conservation and recycling improvement in Oregon.
Actions that have the largest environmental impact in terms of waste reduction and commercial recycling.
Lessons from the successful Master Recycler program.