Designed For

Project managers who must be able to complete projects on time and on budget without sacrificing project quality

Dates

February 12 - March 18, 2018

Delivery

Online | Instructor-led

Cost

$487 (+ $60 registration fee)

Length

Five weeks
Plan for 3-8 hours of work per week

Units

2.4 Units | 24 Hours

Credentialing

24 PDUs with SHRM®
24 PDUs with PMI®

Contact

PACE@oregonstate.edu
541-737-4197

Ask us about Corporate Training.
We can customize this program to fit your organization's specific needs.
Projects by their nature are uncertain and are guaranteed to change. Even projects that have been planned well will fail unless you can effectively identity and analyze risk and stakeholder issues.

Managing the uncertainties can be a critical aspect of project success. Learn to reduce negative risk exposure in your projects and enhance opportunities by using effective risk management and procurement practices. Learn the specific processes of risk management and procurement management as defined by the Project Management Institute in A Guide to the Project Management Body of Knowledge (Sixth Edition), the industry standard.
In this course, you'll learn how to account for uncertainty, risks and unforeseen issues. Identify potential threats, determine the impact of the threat and develop a risk management strategy by quantifying and prioritizing project risks. Learn to effectively manage project procurements, those undertaken in response to project risks, as well as those undertaken to provide other needed products and services. Learn the various phases of the procurement management process and how to work effectively with contracting managers, purchasing professionals and subcontractors to accomplish key project objectives. Define procurement requirements and evaluate bids and proposals. Gain skills to successfully negotiate a contract agreement and manage the resulting vendor relationship. Learn effective courses of action to ensure contractors or subcontractors perform as required under the contract. Know the best practices for closing out contracts.
Through interactive exercises, you'll learn to acquaint you with risk registers, qualitative and quantitative methods of analyzing risk and effective risk response planning.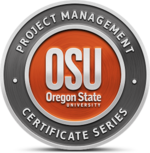 Project Risk and Issue Management is a part of the Project Management Certificate. Take all five courses and receive a digital badge, which you can display on LinkedIn and other social media platforms for employers to see!
Identify the characteristics of risks and opportunities
Develop a risk management plan
Characterize and respond to significant project risks
Apply tools and techniques for risk identification analysis
Determine risk response strategies
Prioritize mitigation strategies and monitor risks
Laszlo Retfalvi, P.Eng., PMP, PMI-RMP

Laszlo is a results-driven leader with extensive private and public industry experience in delivering complex IT/IM enabled products, systems, and services. Laszlo is General Manager of Retfalvi and Associates and author of "The Power of Project Management Leadership: Your Guide on How to Achieve Outstanding Results".

Laszlo is past Vice President of the Program and Risk Management Office at Allen Vanguard Corporation. Prior to this, Laszlo held number of senior and executive positions at General Dynamics Canada, a division of General Dynamics Corporation. Previously, Laszlo was with the Irving Group of Companies and SED Systems.

Laszlo is a frequent industry speaker at both national and international conferences and has published over 60 papers in the areas of risk and leadership. Laszlo is the developer of the Project Management Leadership Model©, a framework to develop personal project management leadership excellence.

A leader focused on accountability, leadership, and business success, Laszlo is also a recipient of the 2013 UCI Extension Distinguished Instructor Award. Laszlo has been happily married to Lisa for over 30 years and they have two wonderful sons, Andrew and Alexander.