Designed For

Professionals who want formal training in project management to pursue career opportunities in either the public or private sector.

Delivery

Online | Instructor-led

Length

Five weeks
Plan for 3-8 hours of work per week

Units

1.2 Units | 12 Hours

Credentialing

12 PDUs with SHRM®

Required Textbook

The Power of Project Management Leadership - Your guide on how to achieve outstanding results
CS Publishing - March 2014
ISBN 10 1493652281
ISBN 13 9781493652280
Available here
A Guide to the Project Management Body of Knowledge (PMBOK® Guide) Sixth Edition, Project Management Institute

Contact

businessengagement@oregonstate.edu
541-737-2163

Ask us about Corporate Training.
We can customize this program to fit your organization's specific needs.
In some ways, effective project management is all about managing people and building high-quality teams. Given that most projects depend on the people doing the work, it's crucial that you build an effective team and establish clear communication pathways in your role as a project manager. Our Leadership and Building High Performance Teams course gives you the skills needed to find the right people for the job and ensure that they work as part of an effective team.
In our expert-led online course, you will develop strategies to work with individuals within a team in order to maximize productivity and ensure your team members communicate their status. After completing this course, you will be ready to take charge and build high-performing teams.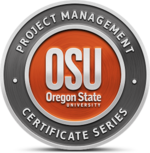 Leadership and Building High Performance Teams is a part of the Project Management Certificate. Take all five courses and receive a digital badge, which you can display LinkedIn and other social media platforms for employers to see!
College Partner
This course is a collaboration with OSU College of Business.

Strategies to ensure that members of your team maximize their efforts.
Methods to ensure team members communicate and effectively work together.
How to keep your team on task and deliver projects that meet client demands.
Laszlo Retfalvi, P.Eng., PMP, PMI-RMP

Laszlo is a results-driven leader with extensive private and public industry experience in delivering complex IT/IM enabled products, systems, and services. Laszlo is General Manager of Retfalvi and Associates and author of "The Power of Project Management Leadership: Your Guide on How to Achieve Outstanding Results".

Laszlo is past Vice President of the Program and Risk Management Office at Allen Vanguard Corporation. Prior to this, Laszlo held number of senior and executive positions at General Dynamics Canada, a division of General Dynamics Corporation. Previously, Laszlo was with the Irving Group of Companies and SED Systems.

Laszlo is a frequent industry speaker at both national and international conferences and has published over 60 papers in the areas of risk and leadership. Laszlo is the developer of the Project Management Leadership Model©, a framework to develop personal project management leadership excellence.