Designed For

Hobbyist gardeners, professional planners, landscape architects, nursery owners, rural and urban farmers, school gardeners, and community organizers.

Dates

September 30 - December 8, 2019

Delivery

Online | Instructor-led

Cost

$840 (+ $60 registration fee)

Length

Ten weeks
Plan for 8-15 hours of work per week

Textbook

Contact

PACE@oregonstate.edu
541-737-4197

Ask us about Workforce Development Training. We can customize this program to fit your organization's specific needs.
Permaculture design is an ethically based, whole-systems design approach to create sustainable human settlements and institutions. Although rooted in horticulture and agriculture, permaculture design also touches on regional planning, ecology, animal husbandry, technology, architecture and international development.
Our Permaculture Design Course Equips You to Create a Design in 10 Weeks
Our online, instructor-led Permaculture Design Certificate helps you successfully employ permaculture philosophies and techniques.
Within a collaborative, academically rigorous curriculum, you will complete regenerative landscape projects with intensive instructor feedback and one-on-one interaction to help with every step along the way. You will learn or expand your skills of translating site observations and designs to paper or digital applications such as Powerpoint and Google Slides.
Augmented Reality for Permaculture Designs
Recently Redesigned Course Curriculum
Our Permaculture Design Certificate was recently redesigned based off previous participant feedback, and this is your first opportunity to take advantage of this new material. Updates include:
Course curriculum reordered to be up-to-date with latest pedagogical developments in the permaculture field.
Assignments redeveloped and refined based on feedback from students and instructors.
A custom report template created that you can use for all assignments, which becomes the permaculture design report for your project. This templates includes user-friendly assessment and design graphic tools for you to work with.
All new videos of thriving permaculture systems from multiple countries and climate zones.
New multimedia "lightboard" presentations covering an array of topics.
A new series of presentations created in an Augmented Reality Sandbox to show 3D animations of water flow in permaculture systems.
Each of these changes utilize the latest technologies and insights from our instructors for an online course experience that will allow you to thrive.
Engage With an Online Community
You will engage with peers through the program's discussion boards, where you can receive and provide feedback and follow each project's progress. You will learn from peers by sharing your own permaculture design plan and viewing other projects from diverse climates and environments.
The digital resources available for this course are primarily focused on the U.S., but it is possible for international students to succeed. It will likely take extra work and effort and significantly increase the amount of time it takes to complete some of the assignments for non-US students. Previous participants have come from locations all around the world, and have created design plans for sites that ranged in size from urban balconies to 100-acre ranches. View examples of previous student projects.
This course is led by OSU instructor Andrew Millison and Marisha Auerbach, who have benefited thousands of students by sharing insights from his 20+ years of experience in permaculture design. By learning one-on-one with Andrew, Marisha and their team, you can avoid common mistakes and receive experienced guidance throughout the process. After successful completion of the Permaculture Design Certificate Online, consider enrolling in the Advanced Permaculture Design for Climate Resilience.
Is This Course Right for You?
This class offers an intensive experience that doesn't work for everyone's learning type and schedule. This course is right for you if:
You are an overachiever who is analytical in nature
You are driven and regularly find yourself in awe of nature
You work well in an online environment or are willing to put in the effort this type of learning requires
You are independently motivated and have the time to put into this course
You have a physical site that you can visit during this course
We are excited to work with a variety of learners, and we guarantee an education you won't find elsewhere. In just ten weeks, you will be introduced to the theory, concepts, tools and techniques of permaculture design. You will build a draft design from a property of your choice with feedback from full-time permaculture designers, teachers and practitioners. At the end, you will have a first draft for the property of your choice that is an essential first step to building a working design that you can implement.
You will have access to the course content after completion to go back to and help you further refine your landscape design. If you find that you want even more guidance from our expert instructors, you will also have the option to take this course again at a substantial discount.
Meet the Instructors
Our Permaculture Design Certificate includes a number of permaculture experts to ensure you receive personalized guidance and feedback for your permaculture landscape design.
Andrew Millison
Andrew Millison has been studying, designing, building, and teaching about Permaculture systems since 1996 and is an instructor in the Department of Horticulture at Oregon State University. He instructs Advanced Permaculture Courses in Teaching, and has guest instructed for many Permaculture courses throughout the Western US. He worked for the State of Oregon creating a Permaculture conference and course for Oregon Housing and Community Services, an agency that builds low-income housing. He works with gardeners, developers, university students, and community organizers to promote Permaculture. He also teaches the new Rainwater Harvesting online course.
Marisha Auerbach
Marisha Auerbach is an internationally recognized permaculture educator, designer and speaker based in Portland, OR. She has been practicing, studying and teaching permaculture for over twenty years in the Pacific Northwest. Marisha has worked in diverse environments from the humid temperate climate to the tropical rainforest in Belize to the arid landscapes of Colorado and Montana. Her international experience includes work in Belize, Haiti, Nicaragua and Vietnam. Marisha specializes in plants, ecology, food production, medicinal herbs, urban permaculture and more. At home, Marisha manages a neighborhood scale plant nursery and plant CSA program for her community.
Devon Bonady
Devon Bonady specializes in permaculture designs in the Pacific Northwest and the Northeast United States. She specializes in plant propagation; landscape design with edible, medicinal and native plants; perennial vegetables and fruiting shrubs; four seasons vegetable gardening; and historical and contemporary Northwest ethnobotany.
Javan Bernakevitch
Javan Bernakevitch has worked in the U.S., Canada, Kenya, Uganda, Cuba and remote Mongolia. He specializes in geomorphic design, rainwater harvesting, perennial systems, and business evaluation and design. Javan is a consulting editor for Permaculture Magazine United Kingdom and North America and is a writer for Urban Farm, Communities and Permaculture Magazine.
Tao Orion
Tao Orion has been working in permaculture for over 15 years and specializes in permaculture designs on the West Coast. She specializes in restoration, systems thinking and design, homesteading and small farm management, forestry, and ethnoecology and ethnobotany. She is the author of Beyond the War on Invasive Species: A Permaculture Approach to Ecosystem Restoration.
Neil Bertrando
Neil Bertrando has worked on permaculture designs in Hawaii, California, Oregon, Washington,Montana, Arizona, New Mexico, Nevada, Florida, Maine, Minnesota, Mexico, Haiti and Senegal. He specializes in watershed restoration, erosion control, high desert, key line design, plant propagation and suburban permaculture design-build.
Jamie Wallace
Jamie Wallace has worked primarily in the Vancouver area in British Columbia, Canada. He specializes in permaculture landscape design for urban, acreage and commercial properties; installation and project management services; rainwater harvesting design and installation; and plant propagation.
Kelda Miller
Kelda Miller has worked in the Pacific Northwest, Oklahoma, Haiti, Cuba and Hawaii. She specializes in creating regional permaculture networks and events; permaculture planning applied to urban walkability planning and municipal codes; anti-oppression work related to permaculture; and land-share gardening.
Karen Taylor
Karen Taylor has been working in permaculture for over 20 years and has worked in Oregon, Arizona, New Mexico and Northern California. She specializes in rainwater harvesting design and installation; greywater systems design and installation; alternative technologies; social forestry; holistic orchard care; surveying and homesteading; healthy home design; course and event organizing; and mentoring and coaching.
Student Testimonials
Our students attend from all over the world and go on to apply the skills they learn in a number of areas. We recently produced a blog post titled From Wall Street to Main Street that tells the story of one of our students if you want an in-depth view.
Here are just a few additional thoughts from some of the students who have taken this course.
"I am loving how each week I am having so many moments where I think…"I never thought of that. It's a great idea that could work." And everywhere I go I am observing so many possibilities for change. I feel like I am at the beginning of my college experience, instead of 20 plus years past it. There are many ideas I want to incorporate as part of my permaculture design, but my challenge is having a small design site and packing it all in."
- Jane, California
"I loved, LOVED this class so much. I've truly gained so much knowledge and ambition through each week. I'm moving onto a farm from the city (apartment where I currently reside) in two weeks with a group of 4 people; we are all likeminded city kids with common experiences and working knowledge of farming and diy lifestyles. I have been left in charge of designing the layout of the land and the gardens, so this is my next HUGE endeavor. We are planning on getting chickens, goats, and we already have 3 beehives. We are even going to be installing rain barrels. I feel like I have a lot of good ideas brought forth from you and Marisha that I can share with my roommates and put into play what I've learned from this course. So, thank you for an excellent semester."
- Stephanie, Maryland
"I really enjoyed this course and was very impressed with the high standard of content. This was my first time doing an online course and I have been singing its praises ever since. I'm really glad that I completed it."
- Martyn Hatori-Singleton
"A lot of information covered! This course provided me with a better understanding of where I needed to focus on further studies. Excellent course content!"
- Jennifer Pringle
"WOW awesome job. Very intense but very rewarding. A lot of work went into creating the course and managing the course and it shows. Thanks!"
- Jay D. Moore
"Andrew and all of his instructors were incredible. They are extremely hardworking, knowledgeable, and kind, and each put in a significant amount of effort to help each involved student understand, learn, and therefore grow. I was very impressed with the research that has gone into creating and maintaining this course and I highly recommend it to anyone willing to put in the effort. I end this course feeling inspired, more knowledgeable, and ready to take on the principles I learned about. I'm genuinely grateful, thank you!"
- Stacy Fox
Certified by Permaculture Institute of North America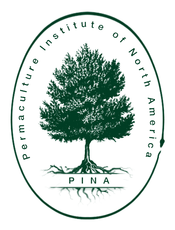 College Partners
This course is a collaboration between Oregon State University College of Agriculture and Oregon State University Professional and Continuing Education.
Observation and analysis of the natural processes of a site
Design principles and methods
Dynamics of water systems, soils, gardens and trees
Urban permaculture
Apply an ethically based whole-systems design approach
Use concepts, principles, and methods derived from ecosystems, indigenous peoples, and other time-tested practices
Learn about regional planning, ecology, animal husbandry, appropriate technology, architecture, and international development
I've never taken an online class before. Are there going to be any online/virtual sessions with the professor or will it be formatted with deadlines to read material and answer questions?

The course is all pre-recorded, so there are no live sessions because of the vastly different locations and time zones of the participants. The course is part watching and reading content and filling out quizzes as you go along to make sure you're getting it, and then there is a major project component where you will do assignments each week related to analyzing and finally designing a site. You will post your work on a class blog, where the other students in other climates and locations can view and comment on your work. There is a lot of interaction between students and instructors relating to your specific design site and process.

What book do I need to order for permaculture? How do I order it?

The book you will need for this course is Practical Permaculture for Home Landscapes, Your Community, and the Whole Earth. It is available through Amazon.

Is there a project that is turned in at the end of the course and if so, how is that done if it includes drawings?

The instructor does expect you to turn in a project at the end – you actually build upon this project each week, almost like adding a new layer based on the theories and concepts you learn that week. Here are a couple of examples of previous student's work:

https://pace.oregonstate.edu/student-portfolio-examples-permaculture-design-certificate-online

How much of my money do I get back if I withdraw from the class?

To receive a 100% refund (minus the nonrefundable registration fee) you must send a written request to withdraw seven days before the first day of class. There is no refund for withdrawals on or after the first day of class. All refund requests must be sent to pace@oregonstate.edu.

If I want to withdraw from this course and take it at a later session, what do I need to do?

Transfers are allowed only within the same course. For instance, a student may transfer from the Spring offering of a course to the Fall offering of the same course, but may not transfer to a different course or program.

A $200 transfer fee will be applied when a student enrolls in the subsequent course. Students may only transfer once. If they are unable to complete a course the second time and still wish to take it, they must re-enroll at full price.

Students wishing to take advantage of the transfer option, should contact PACE at pace@oregonstate.edu stating the name the student used to enroll and the name and start date of the current course session and the start date of the new session desired. Student will be contacted with transfer instructions for their specific course.

Upon completion of this course, will I receive a recognized Permaculture Design Certificate?

This course covers the internationally recognized 100-120 hour Permaculture Design Course curriculum, and earns the student a Permaculture Design Course certificate.

What is the curriculum like? How many times will we meet? What types of readings are done?

Course outcomes include:

Comprehension of the Permaculture design system and the protocols for the Permaculture site design process.
Understand the basic Permaculture design strategies for water, soil, gardens, trees, climatic zones, structures and communities.
Apply Permaculture teachings to all assignments.
Articulate the Permaculture design system through feedback to other students and presentation of projects and assignments

The whole certificate takes about 100 hours to complete, or up to 120 hours depending on how long it takes you to complete your project/assignments.