Designed For

A course for ​professional and hobbyist gardeners interested in sustainable practices

Dates

January 23, 2017
April 21, 2017

Delivery

Online

Cost

Option 1: $490
Option 2: $390

Units

PLANET: 24 CEUs from category Educ3
Oregon Landscape Contractors Board (OLCB): 16 CEHs
Learn the art and science of growing and caring for plants with Master Gardener™ Online.
Become a Certified Master Gardener with One of Two Convenient Options
Option 1: Certificate of Master Gardener Home Horticulture
Master Gardener training, with certificate/certification upon course completion, will be offered once again in January 2017.
Participants receive a Certificate of Home Horticulture upon successful completion of the online course, which includes forum conversations, quizzes and an exam.
Those interested in applying the concepts learned in the online training course through community volunteer opportunities can become a Master Gardener with this course option.
Option 2: Master Gardener Professional Certificate and Badge (CEUs available)
To become a Master Gardener and receive a badge, participants must complete 40 to 70 hours of on-site volunteer practicum in addition to the online coursework. Master Gardeners must fulfill volunteer and continuing education responsibilities to maintain certification.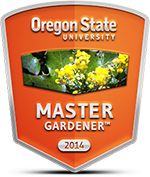 Upon completion of the Master Gardener Series, you will receive a digital badge. Showcase your digital badge on Facebook, LinkedIn and other social media platforms to show friends, colleagues and potential employers what you've learned
The basics of botany and entomology.
Integrated pest management and pesticide safety.
Soils, fertilizers and composting.
Ornamental, herbaceous plants and woody plants.
Vegetable, indoor and container gardening.
Sustainable landscaping.
Plant pathology.
Gail Langellotto

Gail Langellotto works with the Oregon State University Master Gardener program, state and local agencies, nonprofits and other non-governmental organizations. She helps to develop a better research-based understanding of how to design and sustainably manage gardens and parks to maximize ecosystem services. Her OSU Extension Service and outreach efforts are focused on communicating research-backed management practices to home gardeners and commercial landscapers.

Signe Danler

Signe Danler is a veteran Master Gardener and landscape designer with a Masters of Ag degree in Horticulture. With the OSU Extension Service Master Gardener Program, she uses her experience and training in gardening, urban forestry and ecological landscaping to communicate about and promote sustainable gardening and landscaping practices.

Email: signe.danler@oregonstate.edu
Great foundation for home gardener
Excellent course, well presented. Thank you!