Designed For

Professionals who want to formal training in project management to pursue career opportunities in either the public or private sector

Dates

March 26 - April 29, 2018

Delivery

Online | Instructor-led

Cost

$487 (+ $60 registration fee)

Length

Five weeks
Plan for 3-8 hours of work per week

Units

2.4 Units | 24 Hours

Credentialing

24 PDUs with SHRM®
24 PDUs with PMI®

Contact

PACE@oregonstate.edu
541-737-4197
Ask us about Corporate Training.
We can customize this program to fit your organization's specific needs.
The majority of a single project is spent managing and monitoring and being able to properly estimate and assess is a must.

Now that you have learned how to develop a project management plan, it's time to put that plan into action. This course will present you with a variety of tools and processes for ensuring adequate project controls including: scope, risk, procurement, cost, quality and schedule within the costs or Performance Measurement Baseline (PMB).

Project managers will learn to make informed and fact based decisions derived from established and insightful project controls such as necessary immediate project decisions or corrective actions during the project execution phase. Output and analysis of a variety of project monitoring and control techniques will equip you to make quick and sound project decisions, aiding your projects and enterprise.

While monitoring your projects, managing stakeholder expectations and interests need to be kept in mind. This course gets you ready to manage stakeholder expectations that will help your projects run smoothly.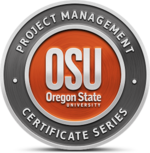 Managing the Project and Stakeholders is a part of the Project Management Certificate. Take all five courses and receive a digital badge, which you can display on LinkedIn and other social media platforms for employers to see!
Measure and control variances that are outside the performance threshold
Create a final report and analysis
Analyze performance, and make sure your project is on track
Manage change and respond to variances in scope, schedule and cost
Engage with stakeholders and effectively manage expectations
Motivate project contributors and keep them engaged
Secure reliable project commitments and build trust
Make collaborative decisions and obtain buy-in
Manage conflicts and work with diverse and distributed teams
Cynthia Snyder Dionisio, PMP, MBA, EVP

Cynthia Snyder Dionisio is a professional project management consultant, instructor and author. She has written eight books on project management. She provides consulting and training services for government and private industry. Her consulting focuses on project management maturity, project management curriculum development, and positioning project management as a core competency for organizations.

Ms. Dionisio has experience in training for the corporate, public sector and academic environment. Clients have included the Veteran's Affairs, Hewlett Packard, Medtronic, the Central Intelligence Agency, and Southern California Edison. In an academic environment she has taught in person and on line for Oregon State University, Villanova, University of California, Irvine and University of Washington.

Ms. Dionisio is an active volunteer with the Project Management Institute. She is the Chair for the PMBOK® Guide - Sixth Edition. Prior to that she participated on PMI's Standards Member Advisory Group. In 2009 she was awarded the Distinguished Contribution Award for her contributions to the profession. Snyder was the Project Manager for the PMBOK® Guide – Fourth Edition. In the past she has served on the Standards Member Advisory Group and was Chair of the Chapter Leadership Development and Excellence Committee for 2003 – 2005. She was President of the PMI-Orange County Chapter for 2001 and 2002 and elected as a Fellow of the chapter in 2007. In 2002 she received the award for Outstanding Chapter President of the Year. She is a certified Project Management Professional (PMP) and earned her Masters in Business Administration from Pepperdine University. She has also earned certifications as an Earned Value Professional (EVP) and is Certified by Microsoft on MS Project 2013