Designed For

Current educators looking to move their materials online. Individuals already knowledgeable in e-learning wanting to further develop and refine their skills. Informal educators working in museums, zoos or the outdoors who want to build digital learning environments. Graphic designers looking to move into the education field and apply their skills in this area.

Dates

Lifelong Learning Engagement Strategies
New Dates Coming Soon!
LXD Practicum: Applications in the Wild
November 4 - December 15, 2019
Advanced Tools and E-Learning Trends
September 9 - October 27, 2019
Elements of Learning Experience Design
New Dates Coming Soon!
UX/UI for Experience Design
New Dates Coming Soon!

Delivery

Online

Cost

Full Certificate: $2,175
(+$60, registration fee)
$240 savings for full certificate!
Individual Course: $435
(+$60, registration fee, per course)

Length

Each course takes six weeks to complete (Advanced Tools and E-Learning Trends is seven weeks).
Plan for 3-8 hours of work per week.

Units

18 CEUs
180 PDUs
This certificate is currently unavailable in it's entirety, but you may sign up for individual classes that are available.
The online education space is thriving and reaching more students every year.
E-learning provides an excellent opportunity for working parents taking classes in the evenings, international students looking for diverse education, or anyone who wants to navigate materials on their schedule and collaborate in an online environment. As educators creating these materials, we have an opportunity to create high-quality online learning experiences centered on the learner and utilizing the latest e-learning technologies.
Our Learning Experience Design (LXD) Certificate will help you develop your online educational experience using the latest designs that help the learner succeed.
Whether you're a current educator looking to move your courses online, an informal educator (museums, outdoors, parks, etc.) wanting to broaden your audience, or are someone who is already invested in e-learning and is looking to hone your skills, you can benefit from the expert training and insight in this program. Click to learn more about what is learning experience design and view a glossary of LXD terms.
Why Study Learning Experience Design (LXD) and UX Design at Oregon State University?
Oregon State University is at the forefront of online education, and our renowned College of Education has been working with educators in Oregon and beyond for almost one hundred years. This program is built off of our popular E-Learning Instructional Design and Development Certificate and will allow you to develop next-level skills to advance your online education materials.
In this program you will:
Learn essential insights on LX Design and how it differs from other approaches
Research strategies and methods to engage your learners in a lifelong process of continuing their education
Cover the latest trends and tools in e-learning that are changing the ways we think of online education and engaging with our learners
Examine tools such as Articulate 360 in order to craft compelling digital learning environments
Investigate UX/UI approaches as they relate to online education and consider how you can integrate these into your own materials
You will also receive customized feedback on your assignments from our expert instructors, helping you grow and build your portfolio. And you will join a cohort of professionals looking to advance their education and interact via discussion boards, creating a networking opportunity with others working in the field.
Take Your Learner Experience Further
This certificate program is designed for those who want to create or improve their online learning materials and will help you:
Facilitate powerful learning experiences
Design digitally-mediated and/or physical learning environments that exceed limitations found in other instructional design strategies
Explore the intersection of instructional design and UI/UX
Implement design research and develop experiential learning experiences
Incorporate principles of human computer interaction, UX/UI design and user-centered development cycles
Leverage the inherent complexities and beauty of human learning
At the end you'll have a certificate from Oregon State University certifying your experience and knowledge.
Courses Included in our Learning Experience Design (LXD) Certificate
This certificate series includes the following five component courses, which may be taken together or individually:
Earn a Digital Badge
Complete this LX Design program and earn a digital badge to share your accomplishment on Facebook, LinkedIn and more!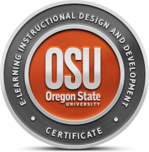 College Partners
This course is a collaboration between Oregon State University College of Education and Oregon State University Professional and Continuing Education.

Jonan Donaldson

Jonan is an educational professional, currently in the Educational Leadership and Learning Technology program at Drexel University. Previously, he worked as an instructional designer at Oregon State University where he also taught online courses in education and technology. He has taught at Western Oregon University and Chemeketa Community College. His specialties include learning experience design, constructionist learning, critical pedagogy, epistemic learning, design thinking, and creativity. His current research involves the relationship between conceptualizations of learning, conceptual metaphors of learning, worldview, and practices in teaching and learning.

Lynne Hindman, Ph.D.

Dr. Lynne Hindman is an educator and resourceful lifelong learner who values partnerships, teamwork, and building bridges across organizations. Certified PreK-12 school principal, tenured teacher, college administrator, university instructor, researcher, and community educator. Lynne has a Masters in Educational Leadership; Specialist in Ed. Administration; and a PhD in Adult & Higher Education with a specialty in Community College Leadership.

Josh Bancroft

Josh Bancroft is a lifelong geek who taught himself to type in computer programs to play games when he was 5 years old, and has been fascinated by the intersection of learning and technology ever since. Josh has a Masters degreee in Adult Education and Organizational Development from Oregon State University, and works on software education and community initiatives in the Developer Relations group at Intel. Josh is an experimentalist who likes to try new tools and technologies, and has had great success at using digital tools like blogs, wikis, podcasting, and social media to increase collaboration, build community, and encourage learning. Josh's learning and teaching philosophy centers on the idea of constructionism - that we create our own learning by "tinkering", making new things (physical or digital), then sharing them with others.

Kimberly Fandiño

Kim has been an educator since 1995. She has a serious passion (some would say obsession) with helping teachers reach students because she believes that the academic experience can and should be rewarding as a teacher as well as a student. Once "data-challenged," Kim has learned the value and (believe it or not) fun that can be had learning about students and figuring out how to make the changes that make a difference. Kim teaches Spanish at a local High School and at the university level has taught Active Research, Data classes, instructional strategies and engagement strategies since 2009. Kim loves spending time with her family (She and Mark have six children collectively, two grand daughters, an extra son, and a cat and a dog.) Travel (often by motorcycle), swap meets, knife shows, the outdoors, and McMenamin's passports are her hobbies.

Jo Baker

Jo Baker has over 15 years experience in the adult learning field, with the past five years focused on instructional design for E-learning. She works with corporate and healthcare clients to design meaningful online learning experiences that incorporate micro-learning, learner-led design, scenarios and story-telling. She earned a Master's degree in Education in the Information Science and Learning Technology program at the University of Missouri. As an instructor, Jo is invested in supporting a robust online learning community and in the application of learning theory to real-life learning challenges. She values creativity, curiosity and collaboration.

Johanna Wood

Johanna Wood is passionate about using user experience design to better contextualize and analysis the human needs within an experience. She has consulted as a UX design researcher for both public and private businesses to deliver measurable insights about user audiences and their experiences. She enjoys working collaboratively with other specialists to ensure that every project takes a human-centered approach that aligns with a design criteria and client needs. She has years of practice designing and instructing educational programs and uses effective storytelling and communication to share information about interaction design. She holds a B.A in Environmental Design and is currently pursuing her academic career in computer and data science.