Designed For

This six sigma certification is designed for those who are responsible for, or are looking to contribute to, high impact projects by incorporating Lean Six Sigma methodology.

Dates

Lean Six Sigma Philosophy and Project Selection
July 31 - August 27, 2017 (4 weeks)
Lean Six Sigma Project Success Fundamentals
September 18 - October 15, 2017 (4 weeks)
Lean Six Sigma Tool Kit
October 23 - December 3, 2017
(6 weeks - 1 week break provided for holiday)
Lean Six Sigma Descriptive Statistics
January 8 - February 18 (6 weeks)
Lean Six Sigma Project Practicum
Dates TBD (5 weeks)

Delivery

100% Online
Instructor-led
In addition to this online Green Belt certificate series, we can also provide this program in a format customized to suit your company, department or agency's needs. Contact us today for a free no-obligation training consultation.

Cost

$2435+ $60 non-refundable registration fee

Individual courses: $487

Units

100 Professional Development Units
100 Professional Development Credits
10 Continuing Education Units

Required Materials

Changes from course to course

Digital Badge

Gain public recognition with your digital badge from Oregon State University!

Talk to the Program Manager

Contact our program manager, Paula Matano at 541-737-3690 or paula.matano@oregonstate.edu to schedule a free, no-obligation training consultation. ​Ask us about Corporate Training. We can customize this program to fit your organization's specific needs.
Get a sneak peek into OSU's Lean Six Sigma training essentials and how it can help your career advancement. Access it now!
Did you know:
Six Sigma Green Belt practitioners earn an average annual salary of $82,000, according to Indeed.com!
OSU's exclusive online Lean Six Sigma Green Belt Online Certificate program offers you a flexible way to learn from lean process experts and advance quickly in your own lean management career!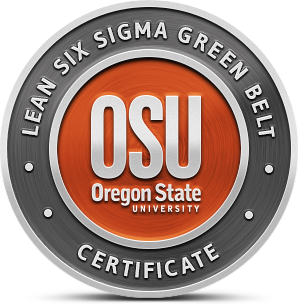 Lean Six Sigma Training
How much would it be worth to you (and your company) to increase the following:
Profits
Safety
Customer satisfaction and experience
Cycle time reduction
Six Sigma Certification
Lean Six Sigma enables you to create leaner and more profitable organizations through product and process excellence.
This groundbreaking methodology, pioneered by Motorola and made famous by General Electric, delivers deep-skilled performance improvement skills and sets the framework for enhanced shareholder value creation.
Lean Six Sigma Green Belt
By understanding Lean Six Sigma tools, you'll be able to identify defects, delays and deviations in your products and processes, which will improve your efficiency and effectiveness.
DID YOU KNOW?
Other Lean Six Sigma programs charge up to $4,000. So, those other programs would cost you almost twice as much compared to this OSU backed Certificate.
Course instructors, Tony Roberts and Henry Rogers, have assisted a variety of companies in different industries in implementing Lean Six Sigma techniques, including:
Reducing workload on existing staff at a local municipality in accordance with unforeseen budget cuts
Maximizing existing processes of an aerospace company to execute a large contract without purchasing more equipment
Improving surgical performance by increasing the efficiency of back office processes from insurance billing to inventory purchasing
The powerful tools that are Lean Six Sigma will boost the profitability and stability of companies in any industry - health care, manufacturing, timber, agriculture, software/IT and more.
The Lean Six Sigma Green Belt Certificate Online Course Series is designed around five learning modules which build upon each other, exploring the phases, tools and methodologies of Lean Six Sigma. You will pick individual real-world projects and receive personalized guidance to effectively implement Lean Six Sigma concepts.
The Lean Six Sigma Green Belt Certificate Online Course Series includes:
All of the Lean Six Sigma courses may be taken individually, but you must complete all five to receive the Lean Six Sigma Green Belt Certificate.
This series requires an average of five hours of coursework each week, including reading assignments, discussions and exercises. Each week's activities are due by midnight the following Sunday.
Gain Career Advancement and Flexibility
Upon completing the five-course certificate, you will be prepared to be a Green Belt and members of a Lean Six Sigma improvement team. Green Belts play a vital role within a Six Sigma initiative as they build on the efforts in data collection and analysis, process mapping and lean implementation.
This program features an integrated curriculum that incorporates lean tools within the DMAIC framework, an action-learning approach emphasizing examples, case studies, and team exercises, a dynamic software learning tool and a unique individualized coaching component.
If you're ready to take the first step, simply register today!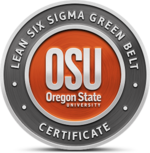 Take all five courses and receive a digital badge in Lean Six Sigma Green Belt, which you can show off on Facebook, LinkedIn and other social media platforms to highlight this industry-leading credential with friends, colleagues and potential employers!
Execute better: Lean Six Sigma links strategic plans to operational improvements to create efficiencies for your business.
Build customer loyalty: Lean Six Sigma helps you target your customer needs so you can improve the things that matter most to your customers.
Create greater returns by lowering operating costs and delivering products and services quicker and with higher customer satisfaction through operational excellence.
Lean Six Sigma Green Belt Certificate Learning Outcomes Overview:
View individual course pages for more specific learning outcomes.
Identify business value drivers and key metrics
Prepare a Kano analysis and a project charter
Visualize a SIPOC diagram and Value Stream Map (VSM)
Perform a stakeholder analysis
Setup a work breakdown structure (WBS)
Assess potential Lean Six Sigma project risks
Recognize different type of waste within a process
Define Takt Time and Takt Rate
Interpret and apply statistical process control tools for attribute and variable data
Calculate and interpret basic probability metrics
Apply Lean Six Sigma tools and methodologies to a real-world case study
Tony Roberts, M.S.

Tony Roberts, M.S., has more than 25 years of management experience in the healthcare and consumer electronic markets. His areas of responsibility include new technology development, six sigma lean implementation, international project management, risk management, quality management and high volume manufacturing. In addition to teaching at PACE, Tony teaches certification courses for the University of California - Irvine and the American Society for Quality (ASQ). He has worked with "World-Class" clients such as Boeing, Northrop Grumman, Sprint, Southern California Edison, Ricoh, and Parker Hannifin. His professional certifications include, Lean Six Sigma Master Black Belt, Project Management Professional (PMP), Certified Quality Manager (CQM), and Certified Quality Engineer (CQE).

Henry Rogers, M.S., M.B.A.

Henry "Hank" Rogers, M.S., M.B.A., is a certified Black Belt instructor and experienced management, consulting and training professional. His experience spans years of supervision, management, quality improvement, consulting, training, and engineering. He has developed and delivered major training programs in diverse industries such as high-tech engineering and manufacturing environments, financial services, health care, utilities, and governmental organizations. His specializations are in Project Management, Lean Operations, Six Sigma, Finance and Quality Systems. Hank holds a bachelor's degree from the University of Notre Dame, an M.S. in Industrial Technology from Illinois State University, and an MBA from California Polytechnic University, Pomona with an emphasis in Finance.
What are the biggest benefits to learning online?

1) Convenience.

Courses are accessible whenever, where ever you want to study and learn!

In other words, you can weave your learning into the times that work best for you, right now. So, you can keep the schedule you want.

With the abundance of digital devices, learning platforms have adapted and you can now study and submit assignments/discussions from your laptop, tablet, or even your mobile phone.


​2) More Collaborative Learning.

Online courses encourage more class participation and interaction.

You can ping your professors and peers whenever you're hit with inspiration. Instead of passively listening to a lecture, a lot of courses require students to add to the discussion. so that means every student has the opportunity to input their thoughts and ideas into the conversation, which adds to the depth of the discussion.


3) More Concentrated Time.

In most online classes, you have the e​ntire week to work with and study the materials provided instead of just a few days in between class meetings.

By choosing your own pace, you can allocate your time as you see fit. So you get to decide which materials need more time, and which can be mastered with less.


4) No Schedule Conflicts. Ever.

Since your time is no longer spoken for, you'll never have to decide between two courses that meet at the same time. You can take whichever one you want. Or both!

And that's just with your course schedule. Deadlines work the same way. You won't have to worry about not being able to turn in an assignment because real life showed up and you couldn't attend class.

Online courses still have deadlines, but the window to work on and turn it in is much greater.


5) Save Money.

Whether it's on commuting costs (gas, parking, bus/train fare), meals on the go, or possible lost wages by missing work, the savings can be substantial.




6) Comfortable Learning Environments.

Besides no crowded lecture halls, you can "attend" class in your home, at the library, the local coffee shop or even in your pajamas! If might be weird to wear pajamas in a coffee shop, but that's up to you. The point is that you can control your environment and any possible distractions.


7) Improve Your Technical Skills.

With an online course, you'll become much more comfortable using and navigating technology, which translate directly into many professional experiences. (For instance: creating/sharing documents, incorporating audio/video materials into presentations, using the newest sites/apps that businesses soon rely on.)


8) Professional and Personal Advancement.

Complete your education while maintaining a career and your personal life. So you no longer need to decide between work, family, friends, OR education.

Online learning offers the ability to balance your schedule as you choose.


9) Improve Other Applicable Skills.

Online learning offers an opportunity to sharpen a wide range of skills. Typically, online students improve in skills like: time management, prioritizing, accountability, reading/writing, critical thinking, focus, etc. etc.


10) Experience More Diversity.

Your professor and classmates are no longer limited to just those in your immediate area. So, you can have class discussions with people as far away as Austin to Australia. This global scope can broaden your world view and experience life from a different perspective.


11) Access.

For those that cannot physically make it to a campus, online learning opens up educational opportunities for students with disabilities as well as those who simply live too far from campus.


12) Environmental Responsibility.

Cutting down on commuting could greatly reduce the amount of greenhouse gases that are released. For reference, we release one ton of carbon monoxide into the atmosphere for every 2500 miles we drive. So, with some simple math - if someone lived five miles away and commuted to campus four days a week, after a year they would have created about half a ton of carbon dioxide.