Designed For

Professionals who want to contribute to high impact projects by applying Lean Six Sigma tools and methodologies to real-world scenarios.

Dates

Delivery

Online | Instructor-led

Length

Each course takes 4-6 weeks to complete

Plan for 3-8 hours of work per week

The full certificate can be completed in 12 months

Units

10.0 Units | 100 Hours

Credentialing

100 PDUs with SHRM®

Contact

businessengagement@oregonstate.edu
541-737-2163

Ask us about Corporate Training.
We can customize this program to fit your organization's specific needs.
Lean Six Sigma enables you to create high efficiency, profitable organizations through product and process excellence. Lean Six Sigma methodologies will boost the profitability and stability of companies in any industry - health care, manufacturing, timber, agriculture, software/IT and more. Our online Lean Six Sigma Green Belt Certificate program offers you a flexible way to learn from Lean Six Sigma process experts and advance quickly in your own career.

The Lean Six Sigma approach relies on a collective team effort to eliminate wasted time and resources, reduce variation, and increase customer satisfaction. By understanding Lean Six Sigma tools, you'll be able to identify defects, delays, and deviations in your products and processes, ultimately improving your efficiency.

This program features an integrated curriculum that incorporates lean tools within the DMAIC (Design, Measure, Analyze, Improve, Control) framework, an interactive approach emphasizing examples, case studies, team exercises, a dynamic software learning tool and a unique individualized coaching component.

You will learn from Lean Six Sigma Black Belt instructors with extensive Lean Six Sigma experience and work with classmates to develop hands-on problem-solving techniques.

Our Lean Six Sigma Green Belt Certificate is designed around five courses exploring the principles, tools and methodologies of Lean Six Sigma. You will pick individual real-world projects and receive personalized guidance to effectively implement Lean Six Sigma concepts.

The Lean Six Sigma Green Belt Certificate includes: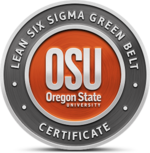 All of the Lean Six Sigma courses may be taken individually, but you must complete all five to receive theLean Six Sigma Green Belt Certificate.
Student Testimonials
"A demanding, comprehensive and intellectually challenging course that provided an invaluable exposure in material, theoretical frameworks and statistical tools currently used by a wide range of business to address and tackle non-value-added processes and procedures. Very well-structured!"
- Michalis Karatzas, Category Development at Mondelēz International
College Partner
This course is a collaboration with OSU College of Business.

Develop strategic plans that relate to operational improvements to create efficiencies for your business
Grow customer loyalty by targeting your customer needs so you can improve the things that matter most to your customers
Cultivate plans for operational excellence, allowing your business to lower operating costs and deliver products and services more quickly
Tony Roberts, M.S.

Tony Roberts, M.S., has more than 25 years of management experience in the healthcare and consumer electronic markets. His areas of expertise include new technology development, Lean Six Sigma implementation, international project management, risk management, quality management and high volume manufacturing. In addition to teaching at PACE, Tony teaches certification courses for the University of California - Irvine and the American Society for Quality (ASQ). He has worked with world-class clients such as Boeing, Northrop Grumman, Sprint, Southern California Edison, Ricoh, and Parker Hannifin. His professional certifications include, Lean Six Sigma Master Black Belt, Project Management Professional (PMP), Certified Quality Manager (CQM), and Certified Quality Engineer (CQE).

Henry Rogers, M.S., M.B.A.

Henry "Hank" Rogers, M.S., M.B.A., is a certified Black Belt instructor and experienced management, consulting and training professional. His experience spans years of supervision, management, quality improvement, consulting, training, and engineering. He has developed and delivered major training programs in diverse industries such as high-tech engineering and manufacturing environments, financial services, health care, utilities, and governmental organizations. His specializations are in Project Management, Lean Operations, Six Sigma, Finance and Quality Systems. Hank holds a Bachelor's degree from the University of Notre Dame, an M.S. in Industrial Technology from Illinois State University, and an M.B.A. from California Polytechnic University, Pomona with an emphasis in Finance.