Designed For

Project managers that must lead successful teams, managers working with both teams and stakeholders in challenging environments

Dates

January 8 - February 4, 2018

Delivery

Online | Instructor-led

Cost

$487 (+ $60 registration fee)

Length

Four weeks
Plan for 3-8 hours of work per week

Units

1.2 Units | 12 Hours

Credentialing

12 PDUs with SHRM®
12 PDUs with PMI®

Contact

PACE@oregonstate.edu
541-737-4197
Ask us about Corporate Training.
We can customize this program to fit your organization's specific needs.
Gain the leadership and communication skills to support successful projects in your organization. Through team-based activities and projects, master the most difficult aspects of team management. Discover how to build and maintain a high-performing, motivated project team using techniques such as teamwork and employee empowerment. Learn how to work together with your project team to avoid and resolve conflicts, make collaborative decisions, and build the foundation of trust and interpersonal relationships required for cohesiveness and successful project results.

This course explores the processes for effectively managing project communication and the techniques for dealing with individual styles. Identify the communication processes as defined by the Project Management Institute in A Guide to the Project Management Body of Knowledge (Sixth Edition).

Discover individual communications styles and how to adapt your style in project situations. Recognize the importance of communication management in successful projects. Adopt differing strategies for establishing and controlling stakeholder expectations. Learn how teams differ in their communication requirements. Learn the stages of team development, the types of teams and how the project manager can apply different leadership styles depending upon the situation. Effective communication practices are combined with leadership techniques to help build more successful project teams.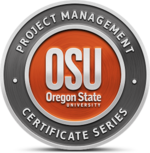 Leadership and Building High Performing Teams is a part of the Project Management Certificate. Take all five courses and receive a digital badge, which you can display LinkedIn and other social media platforms for employers to see!
Learn to lead team through challenging problems, decisions and conflicts
Identify the role of the Project Manager as key communicator
Apply key tools and techniques for effective communication
Recognize different types of communicating styles
Learn to alter your style when needed
Identify the different stages of team development
Determine team roles and how to communicate expectations
Recognize variations in team structures and transition groups into effective teams
Apply effective communication techniques for remote and virtual teams
Cynthia Snyder Dionisio, PMP, MBA, EVP

Cynthia Snyder Dionisio is a professional project management consultant, instructor and author. She has written eight books on project management. She provides consulting and training services for government and private industry. Her consulting focuses on project management maturity, project management curriculum development, and positioning project management as a core competency for organizations.

Ms. Dionisio has experience in training for the corporate, public sector and academic environment. Clients have included the Veteran's Affairs, Hewlett Packard, Medtronic, the Central Intelligence Agency, and Southern California Edison. In an academic environment she has taught in person and on line for Oregon State University, Villanova, University of California, Irvine and University of Washington.

Ms. Dionisio is an active volunteer with the Project Management Institute. She is the Chair for the PMBOK® Guide - Sixth Edition. Prior to that she participated on PMI's Standards Member Advisory Group. In 2009 she was awarded the Distinguished Contribution Award for her contributions to the profession. Snyder was the Project Manager for the PMBOK® Guide – Fourth Edition. In the past she has served on the Standards Member Advisory Group and was Chair of the Chapter Leadership Development and Excellence Committee for 2003 – 2005. She was President of the PMI-Orange County Chapter for 2001 and 2002 and elected as a Fellow of the chapter in 2007. In 2002 she received the award for Outstanding Chapter President of the Year. She is a certified Project Management Professional (PMP) and earned her Masters in Business Administration from Pepperdine University. She has also earned certifications as an Earned Value Professional (EVP) and is Certified by Microsoft on MS Project 2013