Designed For

Human resources generalists, human resources assistants, trainers, recruiters, staffing specialists, office managers of small to medium size companies, managers who will soon be supervising employees, and individuals seeking a career change.

Dates

Human Resources Law
October 2, 2017 - November 5, 2017
Human Resources Metrics & Analytics
November 13, 2017 - December 17, 2017
Human Resources: Strategies for Business Success
January 8, 2018 - February 11, 2018
Human Resources Business Risk Management
February 19, 2018 - March 18, 2018
Human Resources Foundations
April 2 – May 6, 2018
Recruiting Talent and Retaining Employees
May 14 - June 17, 2018

Delivery

Online | Instructor-led

Cost

Full Certificate: $3,162
Individual Course: $527 (+ $60 registration fee, per course)


Length

Each course takes 5 weeks to complete
The full certificate can be completed in 36 weeks
Plan for 3-8 hours of work per week.

Units

12.0 Units | 120 Hours

Contact

PACE@oregonstate.edu
541-737-4197
Ask us about Corporate Training.
We can customize this program to fit your organization's specific needs.
The Human Resources Management Certificate is designed to help you develop the knowledge, methods and skills necessary to meet the human resource challenges of today's changing workplace and workforce.
This online certificate gives you a strong foundation in current HR best practices. It also prepares you to lead the strategic deployment of human capital in today's:
Corporations
Government agencies
Nonprofit organizations
Small businesses
SHRM Re-Certification-Eligible Online Courses
Oregon State University is recognized by SHRM to offer Professional Development Credits (PDCs) for the SHRM-CP or SHRM-SCP. For more information, please go to our SHRM recertification page for more details.
Achieve Public Recognition from Oregon State University
Once you have completed the six courses, you'll receive a prestigious Human Resources Management Certificate from Oregon State University to display your qualifications. In addition, you will receive a digital badge, which you can share via Facebook, LinkedIn and other social media platforms to highlight this industry-leading credential.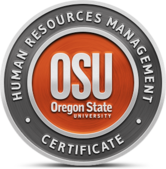 Increase your knowledge of staffing, compensation, employee relations, recruitment, organizational development, training, and benefits.
Expand your awareness and knowledge of government regulations as they pertain to HR.
Learn to successfully integrate new technologies in the human resources function.
Dennis Carr, Chief Human Resource Officer

Your instructor for this course, Dennis Carr, MSIR/SPHR/SHRM-SCP, serves as Chief Human Resources Officer for Lane Community College. As the Society for Human Resource Management's Oregon-exclusive instructor/educational partner, Dennis is proud to share his insight and expertise with other HR leaders. Participants in Dennis' SHRM courses have enjoyed a certification test pass rate of over 94% in each of the past two years! Dennis will take an active role to help ensure you gain the knowledge you need to reach this important career milestone.

Linda Marcot

Linda is President of LMC Partners, Human Capital Consulting and has over 30 years of human capital management experience. Prior to starting her own business, Linda served as a Principal at Mercer Consulting, an international Human Resources consulting firm. Over the years she has worked with 1000s of companies spanning varied industry and size. Her work focuses on the enhancement of the HR function to meet business goals and the effective management of human capital to drive business results. Linda has a Masters degree in Education from Cal State University, Los Angeles and a Bachelor of Arts and teaching credential from UCLA. Linda has taught within the UC Extension's business and management program for over 15 years and been a speaker both nationally and internationally.

Alexander A. Wheatley

Alex Wheatley is an associate with Fisher Phillips in Portland, OR. Alex defends employers in employment-related administrative claims and lawsuits and has litigated several jury trials and argued numerous motions in both state and federal court. He also advises and provides training to company owners and supervisors on issues relating to workplace discrimination, family leave, wage and hour laws, and noncompetition, nonsolicitation, and nondisclosure agreements.

Alex graduated from the University of Alabama and The Northwestern School of Law at Lewis & Clark College. He graduated magna cum laude from Lewis & Clark, where he received the Legal Analysis and Writing Honors Award and served on the Editorial Board of Environmental Law as the Editor for the online journal.

Alex has been admitted to the bar in both Oregon and Washington

Spencer Waldron

Spencer is an associate in the Irvine office. He is an aggressive litigator who has successfully represented clients in mediation, arbitration, in front of governmental agencies, as well as state and federal court proceedings. Spencer has special experience in the areas of wage and hour laws, employee compensation plans, laws regulating drug testing and background checks, and harassment/discrimination claims.

Spencer has litigated numerous multi-plaintiff cases and class-action cases, including wage and hour claims, claims brought under the California Labor Code Private Attorneys General Act of 2004 (PAGA), the Fair Credit Reporting Act (FCRA) and analogous state laws, state and federal prevailing wage laws.

Spencer has also successfully defended employers against cases brought by individual plaintiffs, including claims of wrongful termination, discrimination, harassment, and retaliation. Likewise, he has handled audits conducted by the Department of Labor Standards Enforcement (DLSE), the United States Department of Labor (DOL), and the Employment Development Department (EDD).

Additionally, Spencer provides preventive HR training and development to clients on various personnel issues, including background checks, drug testing, employee classification issues, strategic restructuring and layoffs, disciplinary issues, termination, medical leaves, FMLA/CFRA compliance, employee compensation agreements, and general employment policies and procedures.

Kathleen Sullivan

Kathleen Sullivan has over 15 years of Leadership Experience including high-tech, healthcare, engineering and service focused. She holds an M.A. in Organizational Management, is SPHR certified and has an executive coaching certificate. Kathleen focuses on

Leadership Development and Coaching
Facilitating Leadership Development Programs
Strategic Planning
Workforce Planning and Development
Talent Management Processes and Strategies
Succession Planning
Consulting HR on M&A/due diligence/integration strategies
Improving Employee Engagement
Change Management
Performance Management
Utilizing Assessment Tools to Develop People and Improve Performance