Dates

Anytime

Delivery

Online
Self-paced

Cost

Free

Length

1 - 2 hours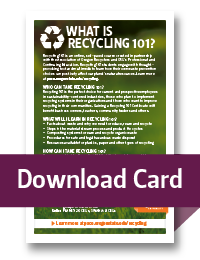 Managing solid waste involves a complex system, and education is a crucial component of the process. A solid understanding of recycling and waste management facts is necessary to enter or advance in the industry, and reducing and recycling in everyday life.
Whether you're looking to develop your professional understanding or hoping to make a difference in your home and community, this free online course will help you discover recycling and waste management facts. Learn about the larger issue of consumption, from how much waste we generate to how it's managed in your community. Take this first course in our Recycling 101 series and gain the knowledge to choose your learning path in waste reduction.
This course is part of the Recycling 101 Certificate. To register for all eight modules and save $65 click here.
Solid waste generation facts.
Overview of recycling terminology and information.
Legal framework of solid waste management in Oregon.