Designed For

All STEM students and professionals from academe, industry, start-ups, government labs, accelerators

Dates

Self-paced or, if assigned, aligned with another learning experience

Delivery

Online

Cost

$110 for the four-module course (educators, students and active duty military members may take advantage of a $30 discount)

Length

Four modules, approximately 90 minutes each; start and complete on your own schedule or in conjunction with another learning experience.
Participants will have up to 180 days from the date of registration to complete the course. You may view or review the materials as many times as you would like during the 180-day access period.

Contact

Questions about ecosVC training? Contact us today.
There are lots of programs that teach you about business models and business plans. But if you want to first figure out the right market for your research or your product – whether you use that knowledge to refine your research direction or decide to create a business – you've come to the right place! That's why Lens of the Market® was built! To put YOU in the driver's seat as a STEM Innovator with the skills to inform and guide your research based on market and societal need – with the same techniques used by successful Fortune 500 companies! Through a unique partnership with Professional and Continuing Education, ecosVC® – a leading provider of STEM innovation training – is now making its groundbreaking training modules available to you in a flexible, self-paced online format.
NEW! Complimentary Course Preview
Through this unique partnership, the expertise of ecosVC's founders - successful scientists, engineers and investors with a proven track record of helping others bring research-driven ideas to market - is now more accessible than ever through this Professional and Continuing Education online offering. Our new course demo module allows you to preview introductory content from the course. Register now for instant access!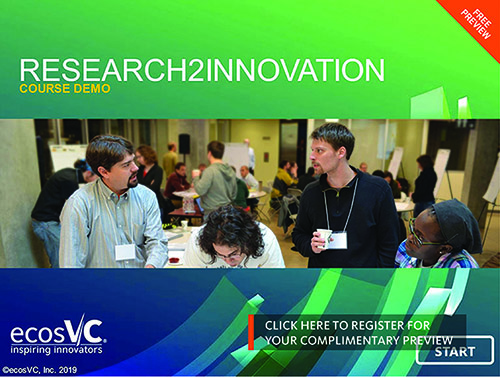 WHO should participate in Lens of the Market® Research2Innovation:
The path from research and invention to creation of a commercial product is long and challenging. Whether you are a science, technology, engineering and math (STEM) professional from academe, industry, a government lab, or a start-up, this introductory four-module Lens of the Market Research2Innovation course is designed to help you get the basic skills for determining a match between your innovation and market and societal needs.
"I walked in with minimal knowledge about the business world but walked out
feeling more confident about translating my research into innovation."
— University of Massachusetts Amherst
WHAT is Lens of the Market and who is its developer ecosVC, Inc?
At ecosVC we believe THE PRIMARY PLAYERS IN MAKING SCIENCE AND ENGINEERING INNOVATIONS HAPPEN are the INNOVATORS! Science, technology, engineering and math (STEM) professionals! And for you to fully participate you must have the language and lens of both SCIENCE and the MARKET! We built the Lens of the Market framework and step-by-step process to enable STEM innovators to translate their research into commercial innovations to meet the needs of people and the planet.

"The curriculum was serious, and it felt like you had to put your best foot forward.
The feedback was critical and actually helped our business learn/grow."
- Vermont Business Accelerator | Accel-VT
The Lens of the Market Track record
The Lens of the Market (LoM) process and framework has been demonstrated as effective for commercializing innovations from research at some of the world's leading innovative companies and has been adapted and tested at more than 15 universities with over 700 students in the context of NSF Center Programs, most prominently the Centers for Chemical Innovation, MRSEC and IGERT programs, and in universities with support by technology transfer offices and research institutes. Survey results have shown 80% of participants found LoM to be valuable for personal development, e.g., for building confidence, seeing value and potential for research and planning or enhancing a career; 90+% cited positive outcomes of the program that included unique perspectives on how to link basic research and societal need not provided elsewhere.
"It is extremely relevant and important information for future scientific entrepreneurs.
This is information we don't get to see in science classes. "
— University of Texas at El Paso
Effectively analyze and segment a market
Define the importance and value of market segmentation
Determine if research can be a platform and the value of a platform
Describe the value of linking platform research with potential offerings and market end use segments
Develop a value proposition and differentiators aligned with a market segment as part of a testable market hypothesis
Define value chains and the structure of markets at the segment, subsegment and addressable market levels to inform how research could be transformed into market valued innovation
Judith Giordan, Ph.D.

Judith Giordan is a co-founder of the Chemical Angels Network, Managing Director of ecosVC, Inc., professor of Practice at Oregon State University, a former Fortune 100 executive and an entrepreneur. Judy serves as board member, co-founder, advisor and investor in publicly traded and seed and early stage STEM-aligned startups.

Her previous executive positions include Corporate Vice President and Officer/Global Director of Research and Development at International Flavors and Fragrances, Inc.; Vice-President Worldwide Research and Development for the Pepsi-Cola Company; Vice President Research and Development/Corporate Officer, Henkel Corporation, the North American operating unit of the Henkel Group. She has also held management, program leadership and technical contributor positions at Polaroid and ALCOA. Examples of venture leadership start-up and Board roles include Voltage, 1ExecStreet and Qteros.

Judy has served on Boards at the National Research Council and at the National Science Foundation where she has been a member of the Math and Physical Sciences Directorate Advisory Board, Member of the Chemistry Division Advisory Board, Member and Chair of the Waterman Award Committee, Member of External Visiting Committees, and as Program Director for the IGERT Program.

Judy is active in professional societies, including as a member of the Board of Directors, Committee Chair and Program co-chair at the Industrial Research Institute and the American Chemical Society; a member of the advisory group of and program leader for the Conference Board technical conferences, Educational Foundation Trustee at the Commercial Development and Marketing Assoc., and speaker and program organizer at the Angel Capital Assoc. Judy's honors include ACS Fellow, ACS Garvan-Olin Medalist, ACS Henry Whelan Award for Management Leadership and Alexander von Humboldt Networking Award recipient. Judy has been selected as theme chair for the 2020 ACS National Meeting to be held in San Francisco – "From Bench to Market".

Judy has a BS in Environmental Science and VoTech Agriculture from Rutgers University; PhD in Chemistry from the University of Maryland; and was an Alexander von Humboldt post doctoral fellow at the University of Frankfurt, Germany.