Download Syllabus
(552.22 KB)
Designed For

Serious entrepreneurs hoping to starting a commercial craft cidery.

Dates

November 6 - 10, 2017

Delivery

On-site | Portland, OR

Cost

$1,275 (+ $60 registration fee)

Length

Five days

Contact

PACE@oregonstate.edu
541-737-4197

Ask us about Corporate Training. We can customize this program to fit your organization's specific needs.

Oregon State University has played a central role in advancing the field of fermentation sciences, as well as helping entrepreneurs learn how to start breweries and cideries and find their own unique place in the craft beverage business with their own distinctive brands. And since 2014, participants in our accelerated Craft Cidery Startup Workshop have become some of the most inspired (and well-prepared) industry startups.
Our Craft Cidery Startup Workshop offers an enriching and accelerated path to help ensure your own business is a success. Taught by seasoned cider industry professionals, this course walks participants through the basics of:
Hard cider business plan
Understanding market feasibility
Ingredient sourcing and equipment
Local and national regulations
Distribution and marketing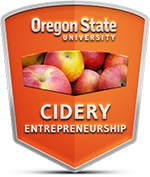 Complete this course and earn a digital badge to share your accomplishment on Facebook, LinkedIn and more!
Recognition of craft hard cider making opportunities in your community.
Process to create a sustainable cidery business plan.
Best practices for growing and marketing your craft hard cidery.
Development of capital and infrastructure including sourcing ingredients and brewing equipment.
Entrepreneurial insight from local cidery owners.
Current trends in the cider industry.
Elements of a successful cidery business and management culture.