Designed For

A course for ​serious entrepreneurs hoping to start a craft brewery or brewpub

Dates

Saturday - Wednesday, February 24 - 28, 2018

Delivery

On-site in Eugene, Oregon
Featuring insights from Ninkasi Brewing Co., Diamond Knot Brewing and other experts covering every facet of the business of beer!

Cost

$1,335 for complete course, featuring leading brew entrepreneurs and experts. Note: registration cost includes $60 non-refundable registration fee.

PLEASE NOTE: Between June 30th at 11am to July 1 at 12pm we will be performing a site update, and will not be able to accept credit card payments during that time. We apologize for the inconvenience. The system will be fully functional on July 1 after 12pm.
Learn the Business of Beer and Start Your Own Successful Brewery
Growth in the beer industry continues to be driven by small- to mid-size breweries, typically with strong local and regional ties.
At a local level, breweries, brewpubs and restaurants are creating new opportunities as part of a growing craft movement – one that favors:
Fresh
Local
Personal
Well-made over mass produced
It's a movement that offers experiences and products every bit as unique as the communities they serve. And as any craft brewer will tell you, it's an industry distinguished by a spirit of mutual support and collaboration.
What Makes this Craft Brewery Startup Workshop Different
From Asheville and Boston to Portland and Seattle, Oregon State University has played a central role in helping entrepreneurs find their own unique place in the craft beer business – and in their respective communities - with their own distinctive brands . Alumni of our world-leading fermentation science programs have leadership roles in breweries around the world. And since 2013, participants in our accelerated Craft Brewery Startup Workshop are behind some of the most inspired (and well-prepared) startup beer and cider brands.
Our Craft Brewery Startup Workshop offers an enriching and flexible way to help ensure your own brewery business is a success. Thanks to OSU's uniquely close partnerships with leading craft brewers and equipment makers, you'll enjoy:
More direct and hands-on coverage of the essentials for a well-designed, financially sustainable brewery operation
Priceless, behind-the-scenes insights on the financial inner workings of a successful startup brewery
Personalized feedback on your own plans that integrate the factors you must consider
Graduating with a functional strategy for opening a business, your beer marketing strategy and operating your craft brewery
What You'll Learn in this Craft Brewery Startup Workshop
This workshop will focus on moving forward with brewery logistics including beer brewing equipment needs and planning for brewery supplies, sourcing, legalities, distribution and marketing strategies for a small business.
So, you'll get a rare chance to learn directly from with experienced brewery business consultants in a five-day workshop designed to help you:
Develop a business plan
Plan capital and business infrastructure
Source equipment and ingredients
Determine how to market and grow your business
Discover relevant business laws necessary for a brewery owner to know
What Past Students Have Thought
"Nothing like this class existed five years ago when I entered the beer brewing industry. I spent a lot of time and effort reaching out to other professionals, but this class brought them right to me. It was a great networking experience." - Audra Gaiziunas - ​Portland Craft Brewery Startup Workshop participant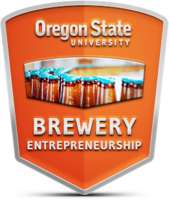 Complete this course and earn a digital badge to share your new credential and accomplishment via Facebook, LinkedIn and more. Your badge also may be easily added as a credential to your LinkedIn profile.
Recognition of brewing opportunities in your community to allow you to start a business.
Process of creating a sustainable business plan for your brewery.
Best practices for growing and marketing your brewery.
Current trends in the brewing industry.
Elements of a successful craft brewery company and management culture.
Nikos Ridge

Nikos Ridge, Ninkasi CEO, manages the senior management team and is responsible for the company's allocation of resources. Nikos grew up in Eugene and moved to the East Coast for college and to pursue a career in finance before returning to Eugene, where he eventually helped launch Ninkasi.

Jamie Floyd

Hailing from Cupertino, Calif., Jamie Floyd, Ninkasi founding brewer, oversees Ninkasi's recipe development and creativity, assists with wholesale partnerships to establish the Ninkasi culture, and works with the internal marketing department on brand identity. To top it off, Jamie provides a wealth of knowledge to the community and Ninkasi staffers offering classes in sensory, beer history and beer pairings.

Aaron Brodniak

Aaron Brodniak is a U.S. Coast Guard veteran that transitioned to the brewing industry and has over 20 years of craft brewing experience. He has worked in breweries ranging in size from 5 – 50 barrels and has held the titles of Head Brewer for a microbrewery and Regional Brewer for a chain of brewpubs. Before joining the team at Diamond Knot Craft Brewing as the Director of Quality, Aaron worked as a consultant for craft breweries to develop business plans, brewery operations, product development, human resource development plans, and standard operating procedures. He is also an instructor on business plans for Oregon State University's Professional and Continuing Education program (Craft Brewery Startup Workshop). He attended the Siebel Short Course on Brewing, earned a Bachelor of Science in Human Resource Management from Portland State University and a Master's in Management from American Public University.

Thad Fisco

Thad Fisco spent 25 years in the commercial construction and development business, including several projects installing and leasing to start up new restaurants and brewery operations. He founded Portland Kettle Works in 2011. As the owner, he oversees the overall direction and vision of PKW, and assists clients in brewery siting, real estate and construction related matters.

Joe Watzig

Joe Watzig, is an avid home brewer, and manages sales at Portland Kettle Works. He concentrates his efforts on understanding local and state regulations regarding breweries and the craft brewing business, and correctly sizing breweries to the specific needs of our clients. He and Thad Fisco, owner of PKW, collaborate with architects and clients as brewery layout and efficiency standards are the culmination of the brewery planning process.

Jason H. Barker, Holland & Knight LLP

Jason H. Barker is a Portland business attorney who practices in the areas of alcohol beverage regulation, corporate law and securities.

Jason represents domestic and international clients, including breweries, distilleries, wineries, distributors, importers and retailers in all three tiers of the alcohol beverage industry. These clients range in size from large, national suppliers and wholesalers of beer, wine and distilled spirits to purveyors of local artisanal products, including craft beer and distilled spirits. He counsels these clients on regulatory and licensing matters, advertising and promotional law, nationwide pricing strategies, marketing programs, advertising campaigns, importation matters, trade practices and inter-tier relations. Jason's advertising and trade practices experience includes advice to clients regarding the use of digital marketing and promotional strategies. He also draws upon his general corporate and transactional background to advise alcohol beverage clients regarding contractual and general business matters.

In addition, Jason regularly advises businesses ranging in size from small startup and emerging growth companies to public companies with respect to various corporate and securities matters, including the negotiation and drafting of a wide range of commercial contracts, mergers and acquisitions, private placements and public offerings, corporate governance and corporate planning for closely held businesses.

Tanner Davies

Tanner Davies works for Country Malt Group, a leading supplier of malt and other brewing ingredients for the beer industry where he helps breweries to procure the raw goods needed for brewing. He is the Territory Manager for Washington, Oregon, and Northern California for Country Malt Group. Previously, he was the Senior Brewer at Gordon Biersch Brewing Company.
Nothing like this class existed five years ago when I entered the beer brewing industry. I spent a lot of time and effort reaching out to other professionals, but this class brought them right to me. It was a great networking experience.