Download Syllabus
(206.97 KB)
Dates

Online: May 15 - June 19, 2017
Onsite: June 19 - 23, 2017

Delivery

Online and onsite in Corvallis, Ore.

Cost

$300 for the Willamette Valley Hop Farm Tour (plus a $60 non-refundable registration fee)
$2,200 for Microbiology and Beer Analysis for the Brewer (plus a $60 non-refundable registration fee)
$2,500 for both courses of the Beer Quality and Analysis Series

Suggested Text
Watch the NEW Origins of Beer Flavors Webinar Featuring Tom Shellhammer, Ph.D. and find a special discount on the two-day workshop! Access it now!
With one of the top fermentation science research programs in the world, Oregon State University is proud to offer a comprehensive series of world-class beer brewing science courses for professional and advanced hobbyist brewers: Microbiology and Beer Analysis for the Brewer and Quality Assurance and OSU/Willamette Valley Hop Farm Tour.
Our Beer Quality and Analysis Series of online and onsite courses teaches you the fundamentals of basic microbiology and its role in the brewing process, and gives you the tools to analyze and evaluate beer to influence quality control in a production brewing setting.
This series includes the following:
While advancing your skills, you'll explore the craft brewing culture of Oregon. We'll show you how local breweries incorporate innovative practices, and how Oregon State's long-running research in beer's raw ingredients continues to influence the brewing industry today—including the Cascade hop, a type developed by the university's researchers that's become the most often-used hop variety by craft brewers.
Part of the course fees will cover a brewers dinner that features beer from a number of local breweries where you'll learn why Oregon is home to so many beer enthusiasts.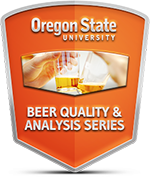 Upon completion of the Beer Quality and Analysis Series, you will receive a digital badge. Share your digital badge on Facebook, LinkedIn and other social media platforms to show friends, colleagues and potential employers what you've learned!
Microbiological techniques and ASBC Methods of Analysis used in QA/QC labs.
Fundamental techniques for isolating, enumerating, staining, and screening brewing yeast and contaminants.
Official methods that can be implemented in a brewery lab.
How to use modern equipment to analyze wort/beer and evaluate process quality
Official methods used to evaluate beer production in a QA/QC lab.
Scientific principles behind packaged beer quality and analysis.
Ways to implement and analyze statistical data as it relates to brewing quality beer.
Quality assurance vs. quality control as it applies to a brewery.
Lessons from discussions with hop and barley breeders from Oregon State and industry tour of a Willamette Valley hop farm
Tom Shellhammer

Tom Shellhammer is the Nor'Wester Professor of Fermentation Science in the Department of Food Science and Technology at Oregon State University, where he directs the brewing education component of the fermentation science program and teaches courses about brewing science and technology, beer and raw materials analyses, plus the history, business and technology of the wine, beer and spirits industries. During the 2008-2009 academic year while on sabbatical leave from OSU he worked at the Technische Universität Berlin and the Versuchs- und Lehranstalt für Brauerei as a Fulbright Scholar and Alexander von Humboldt Fellow. Dr. Shellhammer is the International Section Chairman and member of the Board of Examiners for the Institute of Brewing and Distilling, London, England, a member of the Editorial Board of the Master Brewers Association of the Americas' Technical Quarterly and Vice-President of the Board of Directors of the American Society of Brewing Chemists. In addition to his research, Dr. Shellhammer is a sought-after educator of beer brewing science classes and was a featured expert in the 2011 Discovery Channel documentary "How Beer Saved the World."

Jeff Clawson

Jeff Clawson is the Pilot Brewery and Food Processing Plant manager in the Department of Food Science and Technology at Oregon State University. As part of the undergraduate Brewing Science program, he assists in the Brewing Analysis course. Additionally, he oversees the pilot brewing activities involved in all brewing research projects conducted at OSU. He has been executing descriptive/analytical and consumer sensory panels for beer since 1993 and educating students about the use of sensory science in the brewery for 17 years. He installed the OSU research brewery in 1995 and has been an instructor in Brewing Science since the Fermentation Science Program inception in 1996. Jeff's approach to teaching is via experiential learning, which encourages students to learn by doing, and he promotes a very hands-on, technical understanding of sensory analysis, beer and the brewing process.

Scott Lafontaine

Scott Lafontaine is a graduate research assistant at Oregon State University and a member of Dr. Thomas Shellhammer's laboratory. Scott received his Master of Science in Chemistry at Oregon State University in 2015, and his Master of Science in Biotechnology in 2012. Scott is a member of the American Society of Brewing Chemists and a member of the Master Brewers Association of Americas.
"We sent two of our experienced production brewers to the Inaugural Brewing Analytics at Oregon State. It was a great opportunity for these individuals to expand their vast practical knowledge with a thorough overview of the lab and analytics side of brewing".

--Jason Perkins of Allagash Brewing