Designed For

Professionals who are interested in creating compelling, engaging and profitable internet marketing strategies

Dates

Business-to-Business (B2B)
January 8 - February 18, 2018
Audience Segmentation
March 5 - April 15, 2018
Content Marketing Strategy
April 23 - May 27, 2018
Transmedia Storytelling
June 4 - July 15, 2018


Delivery

Online | Instructor-led

Cost

Full Certificate: $2,588
Individual Course: $647 (+$60 registration fee, per course)

Length

Each course takes six weeks to complete
The full certificate can be completed in 30 weeks
Plan for 3-8 hours of work per week

Units

10.0 Units | 100 Hours

Contact

PACE@oregonstate.edu
541-737-4197

Ask us about Corporate Training. We can customize this program to fit your organization's specific needs.
In our connected digital age, digital marketing is marketing. Successful businesses have mastered the art of telling their story and communicating their brand online through multiple mediums, social media, business-to-business (B2B) materials and more. If you want to reach your audience where they are and ensure your content comes across in a clear and compelling way, then it's important to study this area carefully and stay up-to-date with the ever-changing landscape of digital marketing. That's why our Advanced Digital Marketing Certificate is such a great option for those looking to improve their digital content strategies, novice and expert alike.
This expert-led online certificate utilizes insider knowledge and proven digital marketing strategies to help you:
Design compelling digital content to promote your business and brand
Implement effective strategies to ensure the success of your marketing initiatives
Manage projects that accurately present your work and achieve your business objectives
Effective digital marketing relies on more than just posts. Rather, our certificate helps you develop compelling content and strategies to support your customer throughout the buyer journey lifecycle. Each of our courses help you craft a compelling narrative to represent your brand. You will then look at how you define your audience in order to create targeted advertisements, produce effective web design and optimize for various search engines. You will also learn methods to evaluate the effectiveness of these efforts and investigate hands-on case studies in order to fully develop your efforts.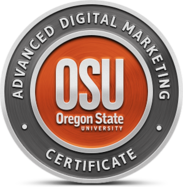 Achieve Public Recognition from Oregon State University
Once you have completed the four courses, you'll receive a prestigious Advanced Digital Marketing Certificate from Oregon State University to display your qualifications. In addition, you will receive a digital badge, which you can share via Facebook, LinkedIn and other social media platforms to highlight this industry-leading credential.
Understand what audience segmentation is and use tools, techniques and research strategies to build profiles.
Evaluate case studies to create proposals for different audiences around marketing strategy, social media outlets, and metrics.
Develop strategy outlines and documents for transmedia storytelling.
Develop actionable content marketing goals by optimizing search content, identifying content around buyer journey, and building a content marketing team.
Understand the difference between C2B and B2B market audiences and how engage hard-to-reach businesses.
Jeff Marcoux

Jeff Marcoux is Vice President of Product Marketing & Customer Experience Solutions at Teletech focused on helping brands deliver experiences that reflect the very best of humanity. He has driven cross product and team collaboration, digital transformation, supported multiple product releases, bringing new products to market, innovative marketing strategies, channel development, and acquisition integration work. He believes that every touch point with a customer is a marketing experience- from marketing to sales to customer service. Jeff is a marketing growth hacker, CX evangelists, martech expert, and brings entrepreneurial innovation to a big tech world. Additionally, Marcoux is a prominent customer experience and marketing speaker, and an adjunct professor of marketing for UC Irvine & Oregon State University. He attended the University of Washington where he received his MBA in Leadership and Certificate in Technology Entrepreneurship.